Our first international tour for 2018 – Sri Lanka – Colombo and Galle. We set off after a scare that we may not get any cricket at all with the Sri Lankan Cricket Board threatening to take away our fixtures for their First Class games. This might end up as just a big boys weekend.
Day 1 – our first game at the NonDescripts Cricket Club – nothing nondescript whatsoever about the venue – lush green outfield, a track equally green, sea gulls, a plush dressing room, a clubhouse with a swimming pool and a tuck shop…so much did it inspire that I have never seen the KCC team change into their whites and get on the ground for a warm up so fast. A warm up, yes! And so alien is that activity that we had a few injuries even before the first ball of the tour was bowled. Some injuries more serious than others, but we shall come back to it later.
Deepak introduces the club, sets the expectations, arranges for friendly rules, wins the toss and elects to bat, of course. A fine start by our openers putting on ……, followed on by a very impressive middle order and we put a very respectable 264 for .. 40 overs.
An elaborate lunch complete with 2 kinds of puddings, carefully curated by Harsh weeks earlier made getting on the field a challenge. Yogesh dazzling with his blue tinted aviators struck in his very first over, smartly caught in the slips by Deepak. Yes, in the slips. Unreal. That set the tone and some fine bowling by….ensured we kept getting wickets eventually winning the game comprehensively by 150 runs. Great start to the tour. Our success record abroad intact.
A three hour drive to Galle to our 5star accommodation at Weligama Bay which was so luxurious led one individual to comment "I am not coming out of my room ever". In hindsight, given his performance perhaps he was right. The Weligama Bay beach, the pool and the bar were hit pretty hard that evening – celebrating our fine win earlier in the day.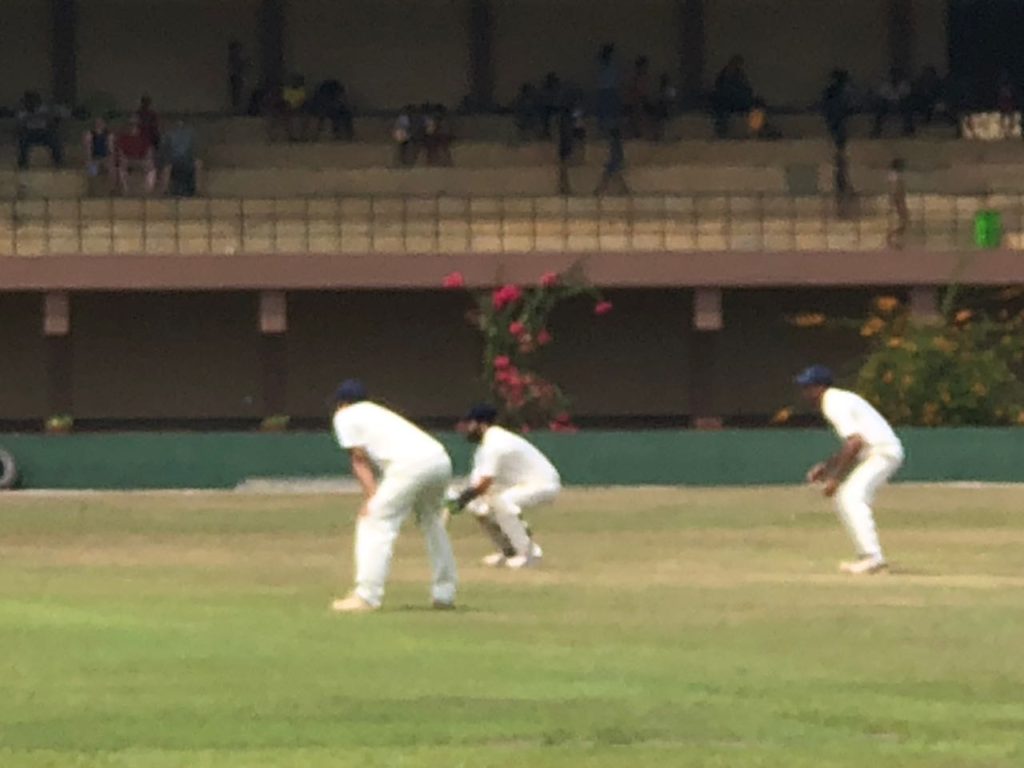 Day 2 – Galle International Cricket Stadium. An iconic setting, the Galle Fort in the backdrop, being in the same dressing room graced by international superstars and walking onto one of the prettiest international cricket venues -surreal. Just then we noticed a young Galle CC side, doing their fielding drills taking running diving catches in the outfield! Is this really our opposition or are they here for the First Class match that the SL Board had threatened us about! To our relief and subsequent misery, there were indeed our opposition. So the game was on.
Any illusions one had of emulating the greats that played on this ground before us were soon shattered when we went into bat and were greeted by one six footer and another left arm quick, bowling snorters from a good length. Kensington CC India – 50 all out. Needless to say, nobody wanted to leave this beautiful ground so soon, so over lunch the opposition were persuaded to play another game. A T15 with Galle CC batting first. They showed no mercy and raced to 172 for 2 in 15 overs. None of our bowlers were spared and in fact, after 3-0-50-0, Harshu rushed to hospital to come back with his arm in a sling apparently "pulling a muscle from a ball hitting his wrist during the warm up on day1". 'Nuf said.
Inspired perhaps by the stories of Galle Fort, we came out fighting but only managed 120. It was worth every extra minute on the ground though.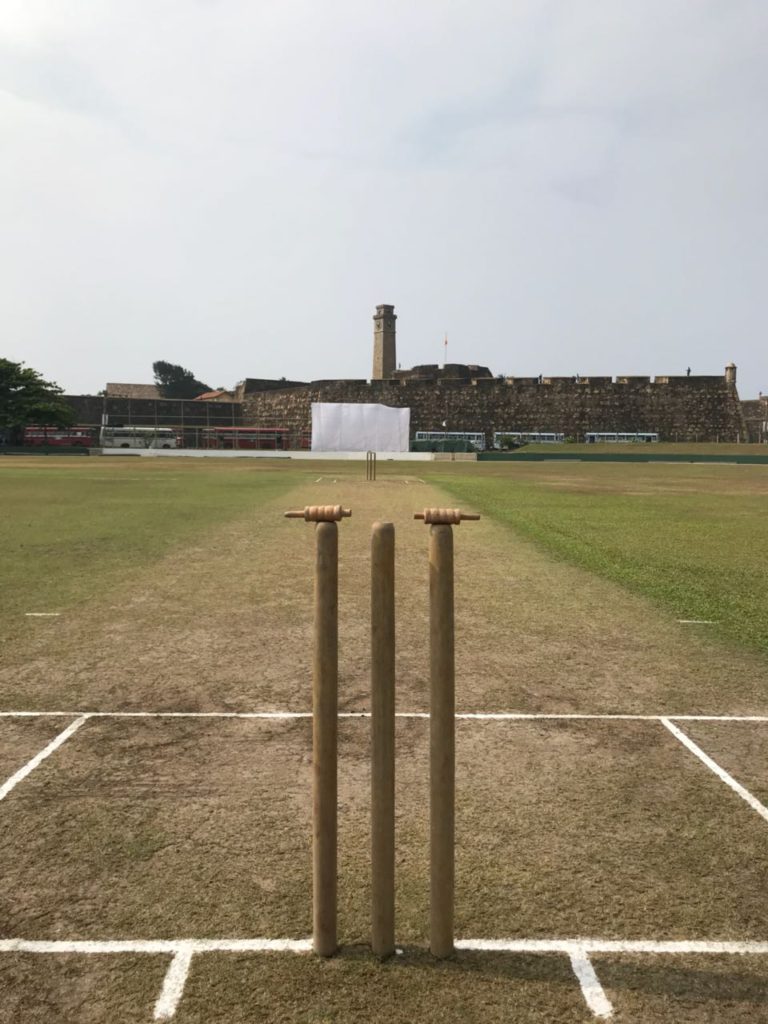 Day 3 – we live to fight another day – Galle Stadium again, we were just happy to play here. A different side, equally young – Galle Fort Army XI. Uh oh. This time something very unlike KCC India happens. Deepak wins the toss again. Elects to field !?! Only motivation here being we wanted to spend as much time on this beautiful ground as possible, and with not much faith in our batting to ensure that, bowling was the right option. The bowlers didn't disappoint. They made 265 in their 35 overs – but only because of some fantastic bowling by Ankush Bhan and Harsh Tanwar, who made a spectacular recovery overnight from his injury.
Determined to salvage pride and some glory, our batsmen fought valiantly – surviving the 35 overs but only managing just 151.
Won 1. Lost 2. But what a great country and what an awesome venue to play cricket. As someone said – to have "bowled from the Galle Fort end" – not many other than us and Muttiah Muralidharan can claim that ! Special. Very special.